A. Grow a local solar workforce in partnership with solar developers and educational institutions.
B. Coordinate training opportunities.
C. Develop and promote policies and programs.
D. Support manufacturing jobs.
Want to become an installer in SWVA?
Get certified through NABCEP (North American Board of Certified Energy Practitioners). This certification program insures contractors and solar customers that you had received the training and  qualifications to safely and effectively install a solar system.
Courses and NAPCEP prep:
Courses are available at Mountain Empire Community College (MECC) to help you on your way to becoming a solar installer in SWVA.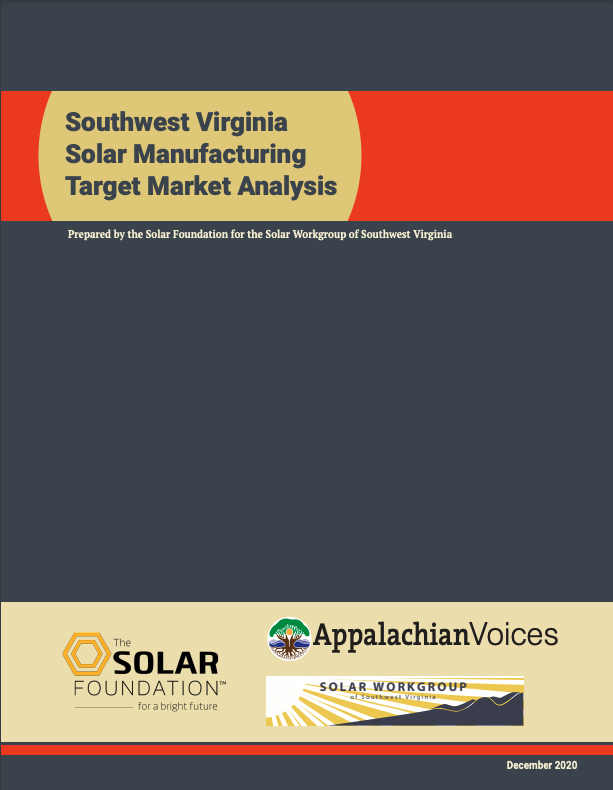 Southwest Virginia Solar Manufacturing Target Market Analysis
The Southwest Virginia Solar Manufacturing Target Market Analysis is the first report to take a deep dive to
examine the potential for solar manufacturing in Southwest Virginia's coalfield region. This report takes
a quantitative and qualitative approach to understand the market potential of solar manufacturing in the
region. The report covers the full solar manufacturing value chain; including solar modules, solar inverters, solar mounting technology, and energy storage technology.
Download Report
What Shared Solar Means for Southwest Virginia
On September 2, 2020, The Solar Workgroup of Southwest Virginia launched an innovative partnership with Secure Futures LLC, Mountain Empire Community College, and GOT Electric to provide commercial-scale solar installations in the coalfield region that are specifically designed to employ local workers. The initiative, "Securing Solar For Southwest Virginia," will provide affordable solar solutions for businesses, nonprofits and local governments in the seven-county region, while building local workforce skills and opportunities for well-paying jobs in the growing solar energy sector. Read coverage from Energy News Network here.
Read More Here