Project Sunroof is an interactive map created by Google that calculates solar potential and provides savings estimates for individual buildings in a city or town. To learn more about the applications and goals of Google's Project Sunroof watch the video below.
How to Use Project Sunroof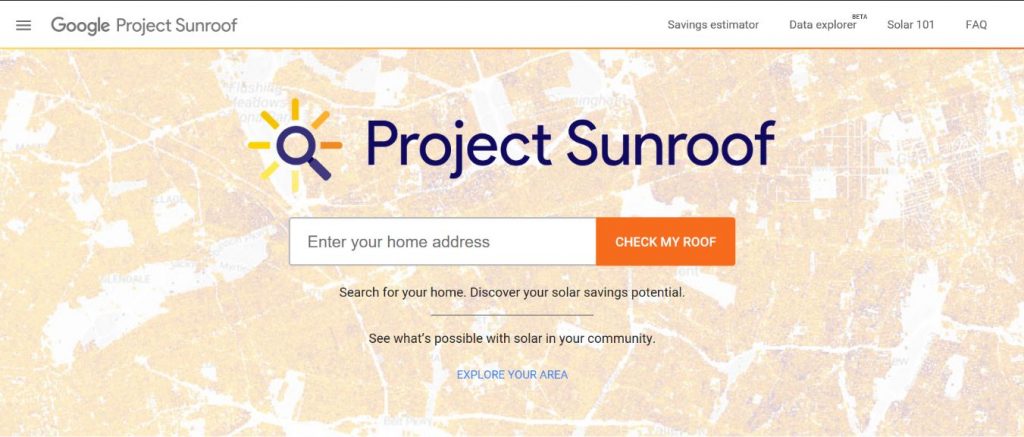 Click the above photo to be directed to the Project Sunroof website.
Enter your address to see if your home has received an estimated solar potential through Project Sunroof.
If Project sunroof has not reached your address,  but you would like to know similar estimates for Southwest Virginia, click "Data explorer" in the upper right hand corner of the page and continue to step 4. If your address is shown you will now be able to see your solar estimates on the left hand side of the screen.
In the "Enter U.S. state, county, city, or ZIP" box, type "Gate City, VA, USA" and press enter.
Zoom into a mapped area, as  indicated by orange polygons, using the + and – buttons in the upper right hand corner of the screen, so that the surrounding vegetation becomes visible.
Houses with yellow rooftops have the greatest solar potential and houses with dark purple have less potential for solar energy.
To view an individual house's estimated energy savings left click on an individual house so that a marker is placed at the selected location and click "See Estimate" at the bottom of the page.