The Solar Workgroup of Southwest Virginia is a group of nonprofit and community action agencies, colleges, state agencies, planning district commissions and other interested citizens and businesses seeking to develop a renewable energy industry cluster in the seven coalfield counties of Southwest Virginia. The workgroup is co-convened by the UVA-Wise Office of Economic Development & Engagement, People Inc. and Appalachian Voices, with facilitation assistance from Dialogue + Design Associates, policy analysis from Southern Environmental Law Center, program development assistance from the Department of Mines, Minerals and Energy, technical assistance from paleBLUEdot, and regional solar planning with The Nature Conservancy.
Read more about the Solar Workgroup background and progress here, and check out our timeline and accomplishments infographic here. And check out the Solar Workgroup Facebook page! Participation in the Solar Workgroup is open to all interested parties. To learn more, sign up using the form in the right column of this page or contact Adam Wells at Appalachian Voices: adam@appvoices.org.
Recent Updates
The Solar Workgroup issued a Request for Proposals on February 24th for a residential solar installer on February 24th. Interested installers can attend a pre-bid meeting on March 8th at 2pm; register at: https://us02web.zoom.us/webinar/register/WN_PWkP42qzSUqCnQyGyYUjKQ
The next Solar Workgroup meeting will be in March. Stay tuned!
Go solar and support local jobs with the Solar Workgroup and the Securing Solar for SWVA program! Join our webinars on Thursday February 25th, 10:30am and Thursday March 4, 11am to learn more about the program and how to go solar. Click here to register for the February 25th webinar and click here to register for the March 4th webinar.
On December 16, 2020, the Solar Workgroup released "Large-Scale Solar Development: A Playbook for Southwest Virginia," an introductory guide for local governments to facilitate large-scale solar projects in Southwest Virginia.
Matthew McFadden was hired in December 2020 the Project Coordinator for the Securing Solar for Southwest Virginia initiative. Read his story here.
On November 6th, the Solar Workgroup met online to focus on member engagement around solar policy and refining the Workgroup's policy priorities for the 2021 Virginia General Assembly. See the full meeting notes here!
Help advance the Solar Workgroup's 2021 Virginia General Assembly priorities. Read and sign on in support of the priorities here.
Go solar and support local jobs with the Solar Workgroup and Securing Solar for SWVA program! Building owners interested in going solar should contact chelsea@appvoices.org for more details.
In 2020, four school boards (Wise, Scott, Dickenson, and Tazewell) in SWVA passed resolutions calling for fair access to solar financing and net metering programs that make solar possible for schools and local governments. See the Wise County resolution here, and the Tazewell County resolution here, and see an October 15th press release with more local governments speaking out here!
On August 6, 2020, Lawrence Berkley National Lab announced that the Solar Workgroup of Southwest Virginia will receive technical assistance through the National Community Solar Partnership. The technical assistance will help develop community solar project design and financing for People Inc.'s multi-family housing developments.
The Solar Workgroup met on Wednesday, June 24, 2020. Click here for the meeting summary.
Click here for more minutes from Solar Workgroup meetings, and check out more Solar Workgroup news here, 
Solar Workgroup Background
The Workgroup grew out of the Economic Forum held at University of Virginia's College at Wise on May 12, 2016.
The economic benefits of a renewable energy industry in Southwest Virginia could be significant, especially if it grows to include all aspects of the solar value-chain, from manufacturing to engineering to installation. Regional electricity demand is expected to grow over the next 8 years and the types of businesses being recruited to the area will rely on abundant, redundant, and renewable energy. Fulfilling a part of that demand growth with locally generated renewable energy would provide an economic boon and a powerful leverage point for scaling up a diverse regional renewable energy industry sector.
A recent economic impact analysis conducted by Appalachian Institute for Renewable Energy showed that developing just 26 megawatts of solar in Southwest Virginia could:
Create more than 300 construction jobs and 127 maintenance job-years;
Generate over $40 million in local economic activity and pay living wages;
Represent almost $50 million in private sector investment; and,
Generate over $80 million of valuable renewable energy.
In 2017, we conducted a stakeholder process to jointly and collaboratively create a roadmap for renewable energy economic development in Southwest Virginia's coal mining region.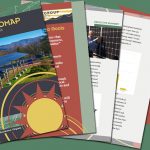 In Nov. of 2017, the Workgroup released the Solar Roadmap of Southwest Virginia detailing a multi-faceted strategy for establishing a vibrant solar energy hub in the coalfields of far Southwest Virginia. The report explores the issues of funding, policies, workforce training and education as they relate to solar advancement in the region, and identifies 15 sites that would be ideal models for solar installations. It identifies opportunities for specific renewable energy projects across the region, as well as workforce development needs, supply chain gaps, and local business opportunities. It also identifies project capital networks and lay out strategies to generate project capital. We are now working together to implement the recommendations and strategies of the roadmap for years into the future.
2017 Economic Analysis, Site Assessment and Profiles: Downstream Strategies, working with project partners, completed the site analysis and profiles of potential solar site candidates, along with an economic analysis for solar development in Southwest Virginia, referenced in the Roadmap.  Click on the first image below to view the Economic Analysis and the second image to view the site profiles.