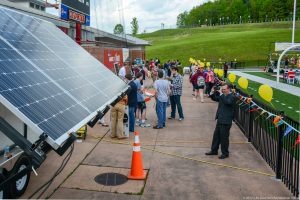 About the Solar Workgroup of Southwest Virginia
We are a group of nonprofit and community action agencies, colleges, state agencies, planning district commissions and other interested citizens and businesses seeking to develop a renewable energy industry cluster in the seven coalfield counties of Southwest Virginia. The workgroup is co-convened by the UVA-Wise Office of Economic Development & Engagement, People Inc. and Appalachian Voices, with facilitation assistance from Dialogue + Design Associates.
Read more about the Solar Workgroup background and progress here.
Important Updates
The next Solar Workgroup meeting focusing on the SolSmart program kick-off and utility-scale solar on mined lands will be on Tuesday, January 15th from 9:00 – 10:30 am. The meeting will have both an in-person and call-in option, and a draft agenda is at this link.  The meeting will be held at UVa-Wise in the Dogwood Room located on the 5th floor of The C. Bascom Slemp Student Center — see the attached agenda for parking information.   The call-in number is: (408) 650-3123  Access Code: 546-835-269 or join via the web:https://global.gotomeeting.com/join/546835269

Please save-the-date for our next full Solar Workgroup meeting from 1:00 – 3:00 pm on Wednesday, February 20th, with Wed. February 27 from 1:00 – 3:00 as our back-up snow date. We'll send additional details soon.
It was great to see many of you at the Oct. 26 Solar Workgroup meeting which was a very productive and enthusiastic meeting! The meeting summary may be found at this link.

We are delighted to share a big congratulations to the NCi team who was selected as the contractor by the Solar RFP Selection Team for six commercial-scale solar RFP sites in SWVA (the NCi team includes Northeast Construction, Acorn Electrical, and RockBridge Energy). The Full Solar RFP is available at this link — stay tuned for RFP #2 next year. 

Please check out and "like" the Solar Workgroup FaceBook page!

In early January 2018, Virginia Delegate Terry Kilgore introduced HB 1252, legislation that makes it easier and more affordable for tax exempt entities — which can't make use of federal tax incentives — to install renewable energy like rooftop solar panels. THANK DEL. KILGORE today for introducing HB 1252! Or express your support to Senators Chafin and Carrico as well.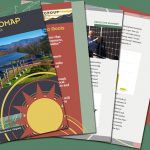 In Nov. of 2017, the Workgroup released a report called Solar Roadmap of Southwest Virginia detailing a multi-faceted strategy for establishing a vibrant solar energy hub in the coalfields of far Southwest Virginia. The report explores the issues of funding, policies, workforce training and education as they relate to solar advancement in the region, and identifies 15 sites that would be ideal models for solar installations.
The Economic Analysis, Site Assessment and Profiles are complete! Downstream Strategies, working with project partners, completed the site analysis and profiles of the potential solar site candidates, along with an economic analysis for solar development in Southwest Virginia.  Click on the first thumbnail to view the Economic Analysis and the second thumbnail to view the site profiles.
   
The team received some excellent proposals, and after receiving feedback from project partners, Sigora Solar was selected as the Solarize contractor. More information will be shared at the upcoming Solarize community meetings (see below)
We are still seeking new potential sites for solar development in SWVA, particularly for businesses (as there are several potential funding opportunities, especially for building owners). Please contact Matt from the Planning Team with ideas for sites or questions at: <Matt@appvoices.org>
Meeting Summaries
Supplemental Meeting Documents
 Solar Workgroup background
The Solar Workgroup of Southwest Virginia is a group of nonprofit and community action agencies, colleges, planning district commissions, the Virginia Department of Mines, Minerals and Energy and other interested citizens and businesses seeking to develop a renewable energy industry cluster in the seven coalfield counties of Southwest Virginia.
This workgroup grew out of the Economic Forum held at University of Virginia's College at Wise on May 12, 2016. UVA-Wise Office of Economic Development & Engagement, People Inc. and Appalachian Voices are co-convening this stakeholder process, which is facilitated by Dialogue + Design Associates, with solar development research and education provided by Appalachian Institute for Renewable Energy.
The economic benefits of a renewable energy industry in Southwest Virginia could be significant, especially if it grows to include all aspects of the solar value-chain, from manufacturing to engineering to installation. Regional electricity demand is expected to grow over the next 8 years and the types of businesses being recruited to the area will rely on abundant, redundant, and renewable energy. Fulfilling a part of that demand growth with locally generated renewable energy would provide an economic boon and a powerful leverage point for scaling up a diverse regional renewable energy industry sector.
A recent economic impact analysis conducted by AIRE showed that developing just 26 megawatts of solar in Southwest Virginia could:
Create more than 300 construction jobs and 127 maintenance job-years;
Generate over $40 million in local economic activity and pay living wages;
Represent almost $50 million in private sector investment; and,
Generate over $80 million of valuable renewable energy.
We are now conducting a stakeholder process to jointly and collaboratively create a roadmap for renewable energy economic development in Southwest Virginia's coal mining region. The roadmap will identify opportunities for specific renewable energy projects across the region, as well as workforce development needs, supply chain gaps and local business opportunities. It will also identify project capital networks and lay out strategies to generate project capital. Finally, the process we envision will not end with the publication of the roadmap, but will be ongoing as we work together to implement the recommendations and strategies of the roadmap for years into the future.
Participation in the solar stakeholder process is open to all interested parties. To learn more, contact Adam Wells at Appalachian Voices: adam@appvoices.org.